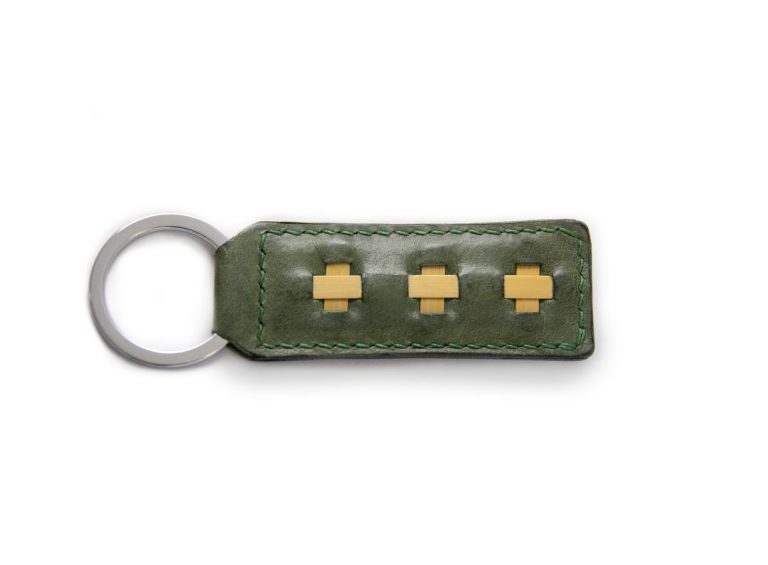 Concerto Key Rings
Our Key Rings as a Purse Charms Key Fob? 
The Marcello leather key rings is a purse charms key fob as well as simply a key chain. Actually the first accessory we made as a prototype in 2017 was so small that we actually put it on our kids backpack for testing.  We thought it would be the perfect way to test the durability. Kids bump and drop and put their backpacks through all kinds of torture. That key ring is still in perfect condition and built up a beautiful patina and looks like a real authentic vintage bag charm. Shop Now   

What are Concerto Key Rings?
The Concerto key ring is crafted with a 1.25" ring. We make each piece with loving workmanship and exquisite European veg tanned leather. Then we hand finish the bamboo so it's the perfect accent to your style. All pieces are handmade to order using the finest materials and traditional craftsmanship. A Symphony of Nature!
The First Bamboo Leather Designer Key Chain on Kickstarter

We launched the Concerto Key Ring in 2019 on Kickstarter. It's the first offering since it was absolutely unique and at the right price point for the Kickstarter crowd. All data we read pointed to a price point of about $25-$40 and we did a special edition accessory just for the campaign.  All our leather accessories including our key rings, clutch, bucket bag, and even key rings and clasp are far more affordable than designer key rings. More importantly, they are all lovingly handmade in the finest materials known to man and provided by mother nature, bamboo and leather. Learn more about our Kickstarter project.
What's Bamboo Leather?
If you do a Google search for Bamboo Woven leather you will surely find us first, since we came up with this new term. It's a new luxury format of leather where we weave bamboo strips into the leather. This makes each piece not only beautiful, but also adds strength and firmness to the piece  Leather by itself is flimsy and pliable since it has no rigid internal structure. Since we weave bamboo into the leather this whole process takes hours. But before we even start, we have to prepare the bamboo and have it cured so it will last a lifetime. The next step is to hand carve each piece to fit perfectly in the key chains.. These additional steps takes much time but we believe it makes an undeniably distinctive purse charm or key fob.  
Why is it called the Concerto Key ring? Well, we thought long and hard for a good name for our leather accessories because as a startup you want to create something unique and memorable. One of our founders is a classical cellist and we liked the feeling this word Concerto brought to this handmade piece of art. 
So if you are looking for an exclusive item that gets noticed our bamboo woven leather accessories like the Concerto key rings are the perfect gift or accessory for yourself. We use the finest beautiful bamboo from the mountains near us in Taiwan. Shop now for our key rings.