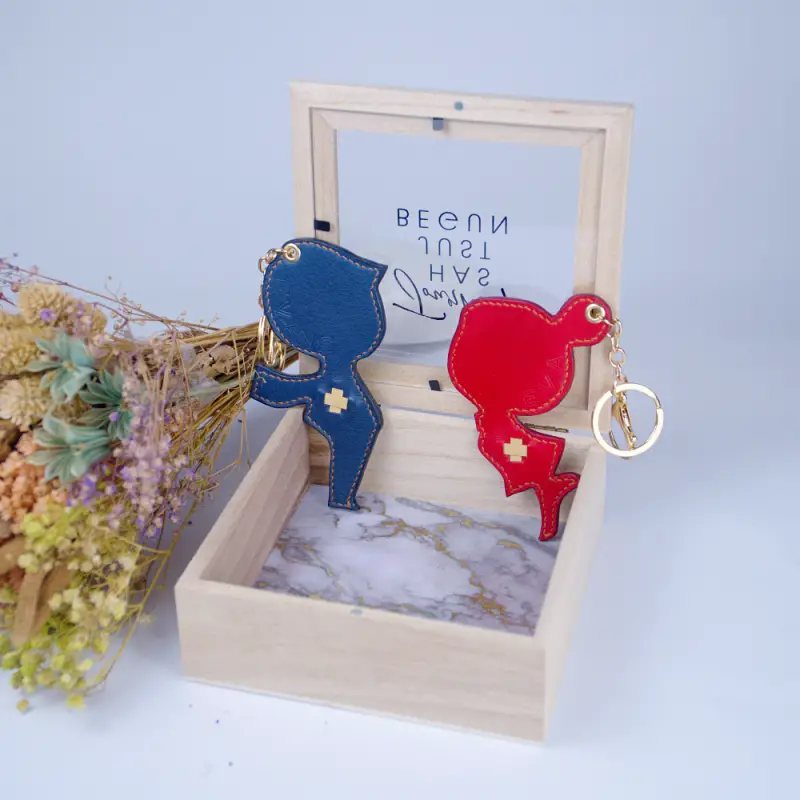 When you think of a leather gift for any occasion especially Valentine's Day, you expect to find something unique right? Well, how about a bamboo woven leather gift like no other for Valentine's Day?
At Marcello, the leather Valentine's couples charms and keychains are unique and personalized. We make them from the finest cuts of Italian supple buttery Italian leather in red and blue. This romantic pose of the couple kissing in love is something we created to share either as a keychain set or as a purse or bag charm. The woven bamboo adds some charm to the piece and they are hand-cut bamboo strips we get from the mountains here in Taiwan. The is a 27mm ring and clasp for you to use with keys or to snap on where you need it. 
As with all our leather goods at Marcello, we start by cutting the leather from the best parts of the leather hides. We want your pieces to last forever like your love so we start with a prime piece of leather. Then we prepare the cut pieces of leather and punch them with your personalized name or short message. Next is to weave in some bamboo that adds structure and a beautiful design to the piece. The pieces are then stitched together and then we sand the edges and prep them for lasting a lifetime! 
Why are Marcello's leather goods so unique? That is because we weave bamboo strips into our leather pieces. The unique method we use combines traditional Western leatherworking and Asian bamboo weaving. Both of these traditions of handcrafting have been around since the beginning of man and woman! For 1000's of years our ancestors have used these robust and useful materials to make everything they needed for everyday use items. Now Marcello is the only one to use this method of production to create unique luxury handmade leather goods for you! 
11.5cm x 7cm
Weight 17grams