Have you had a leather purse that is peeling or flakes on you? We sure hope you won't have to have that happen again. Let's show you how to prevent this.
To prevent a leather purse from peeling keep it well-conditioned with mink oil, store it in less than 55% relative humidity, and mold-free. Also, keep the purse clean and free of water or spills. Blot dry if gotten wet.  The best prevention is buying a veg-tanned leather purse for no peeling at all.
We show you how to prevent the peeling of leather purses indefinitely. Please read on. 
Most leather purses made by the big brands can be easily cared for and kept moist and clean by using their recommended leather cleaner and conditioners. The mainstream purses by Coach and Michael Kors, for example, all have their own cleaning products that you can purchase and use to clean with a damp cloth and then use the leather conditioner to keep the leather moist and supple.
The next important factor is to store your bag with care in a low humidity of 55% relative humidity if possible. The temperature should be a normal room temperature which also is the ideal environment to keep your leather purse and bags free from mold as well.  
And finally, keeping the purse dry from rain or spills is a must. Dry it out by blotting and placing it in front of a fan to thoroughly get the moisture out before use or storage. You should always carry a purse cover or slicker and a dry cloth to wipe off and care for your purse. 
Have Leather Purse Regularly & Professionally Cleaned
If you have bought a branded purse, the safest way to make sure your purse will not peel or flake is to have it regularly cleaned and conditioned by the maker. The top luxury purse brands have this service and you can check with them to clean once or twice per year. They may or may not clean it and most likely will only replace parts or repair it.  
Some brands like Coach and Michael Kors have recommended leather cleaning and conditioning products and we advise you to use those since they will work the best for the type of leather they use. Each maker uses their own specific type of leather and therefore the conditioners you need to use are specific to that leather type. If you mix them up there is a chance of damaging your handbag beyond repair.  
Louis Vuitton says you should never use any cleaners or conditioners and recommend only their service to handle your bags. Although they say you can wipe them down with a damp cloth. Gucci and Bottega Veneta only say take your purse to them for care and don't offer any information about how to care for their products. Michael Kors, Marc Jacobs, and Tory Burch don't offer any service for cleaning or instructions. 
You can refer to the table we made about the brands of purses and services or leather cleaners they offer.    
| | | | | | | | |
| --- | --- | --- | --- | --- | --- | --- | --- |
| | Bottega Veneta | Louis Vuitton | Gucci | Coach | Michael Kors | Marc Jacobs | Tory Burch |
| Use cleaner? | NA | No | NA | Coach  | Michael Kors  | NA | NA |
| Cleaning Provided? | Yes | Yes | Yes | Maybe? | No | No | No |
| Moisturizer | NA | No | NA | Coach | Michael Kors product | NA | NA |
| Brush it? | NA | No mention | NA | No | NA | NA | NA |
| Wipe damp cloth? | NA | Yes | NA | Yes | NA | NA | NA |
Handbag Care by Main Luxury Brands

Clean Your Leather Handbag Monthly by Yourself
You can easily clean your own leather handbag all by yourself with some simple tips. First, prepare a white linen cloth and some leather cleaner or conditioner recommended by your purse brands. If you don't have any branded purse leather care products we recommend using leather honey.
Next, you will also need a horsehair brush to brush off all the debris on the outer surface. And if you're going to store your purse for a long time we would recommend you to empty the contents of every pocket and vacuum out all of the debris on the inside. You don't want to leave any material that could harbor mold growth or create moisture in the pockets.
Then use a damp cloth to thoroughly wipe down the outer surfaces of the leather. If there are any stains then please use some extra care on these spots. Next, you will need to thoroughly wipe down and dry your purse. We prefer to place the bag in front of a fan to dry for at least half a day. This of course depends on how soiled your leather bag was in the first place. 
Moisturize Your Purse or Bag Regularly
Now that your bag has been thoroughly cleaned and dried it is time to slowly rub some mink oil or other leather conditioner. Once again if you don't have the recommended leather conditioners from your particular brand of a purse, we recommend using Leather Honey. 
You need to test an inconspicuous part of your purse just to see how the leather conditioner will react with your leather. There are so many different types of leather and each tanner uses a slightly different process. So the leather conditioner will have a different effect on these types of letters. Once you see how the leather conditioner reacts and you're satisfied with it you can buff it out to see what the final color will be like after you fully condition your leather purse.
After you have let the leather conditioner seep into and evaporate off then you'll need to buff your leather surfaces. This will all depend on how much leather conditioner you used but you can usually leave your purse for about half a day before it's ready for buffing just to be on the safe side. Once you're done with this you can use your horsehair brush again to buff up and shine up your leather purse.
Store Your Purse in Proper Location, Temperature & Humidity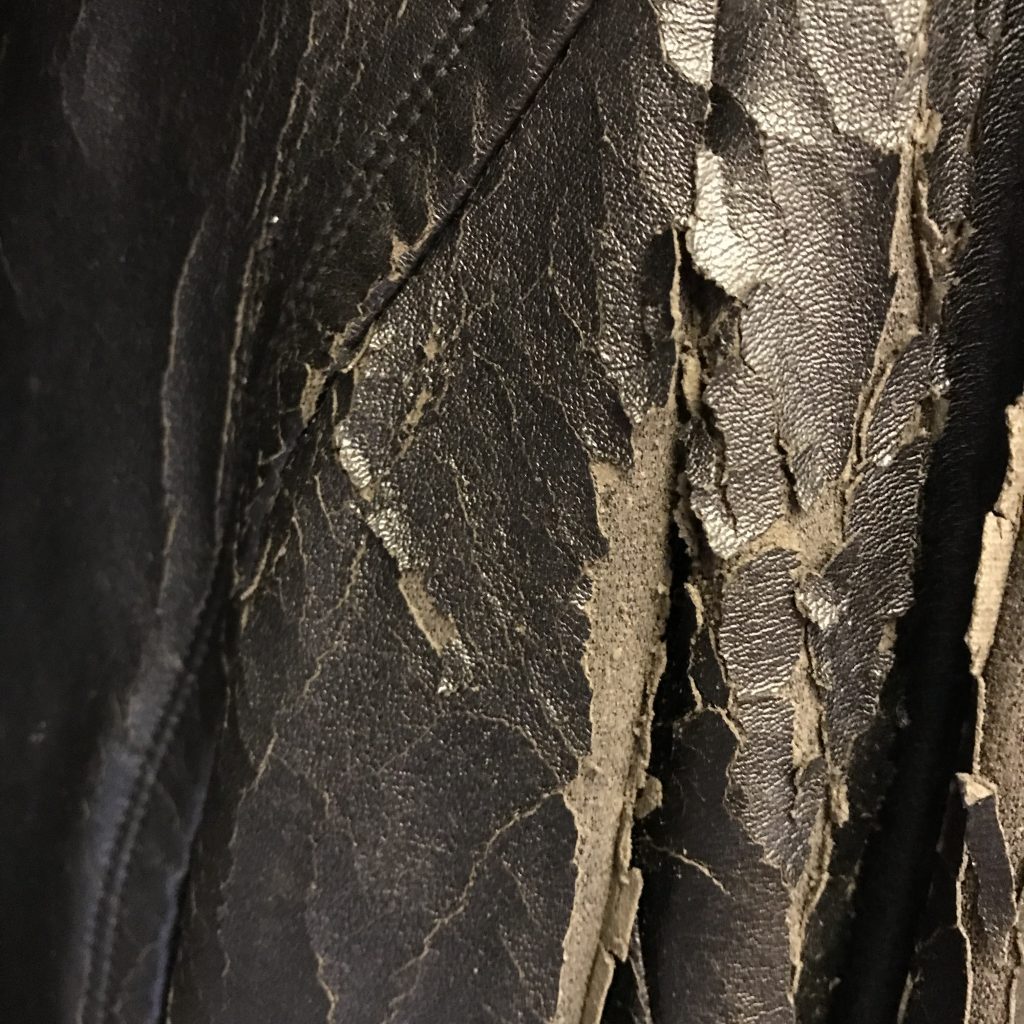 If you really want to make sure your leather purse never peels you should store it in the proper place at the proper temperature and humidity. Never place your purse on the floor or any damp closets in your home. If you can afford it we recommend putting your best purses in a purpose-built electric dryer cabinet where you can set the relative humidity at 55%.
A reasonably priced and sized dry cabinet like the one below is suitable for purses as well as electronics, cameras, and lenses.
Before you put your bag in the storage make sure you fill it with newspapers or some other non-acidic tissue paper and stuff your bag to keep the shape of your handbag. Then store it in a nice soft breathable cotton or satin dust cover. If you can use cotton bags that's probably the best or you can use the silk bags that you can find online. Now you're ready to store your bags so they will stay dry, mold-free, and never peel.
How to Check Leather Purse if it Will Peel?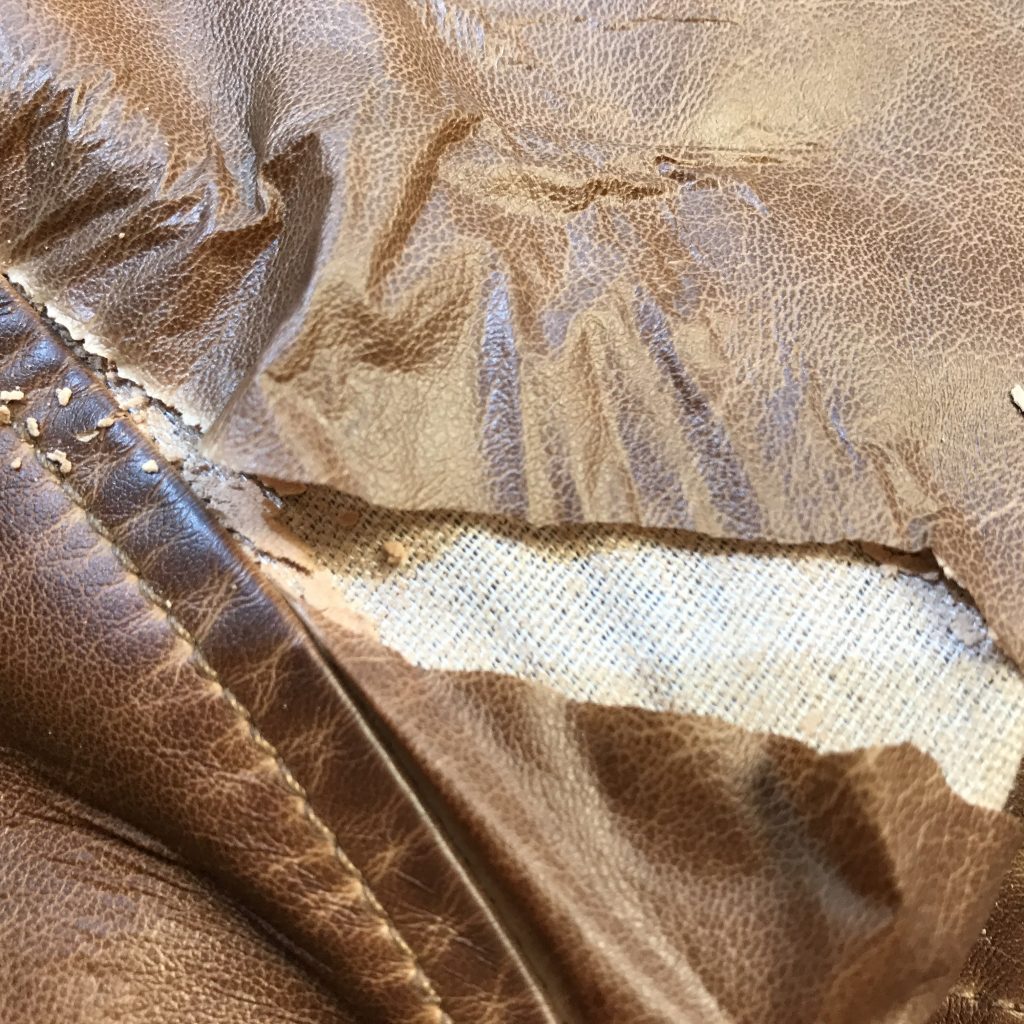 If you want to check to see if your leather purse will peel or has the potential to peel here's all you have to do. The easiest way to verify is with the seller of the purse. Especially if you have a brand-name purse you can ask or check the information online to see what kind of leather the purse is made from. Is the purse made of synthetic leather or veg-tanned leather? If your purse is made from veg tan leather you can safely say that your leather purse with proper care will probably never peel. 
However, if you cannot determine what type of leather or you suspect that the maker is using synthetic leather sometimes known as bonded leather, or faux leather then your purse will most likely have a chance to peel and flake in the future. These varieties of leather don't last long.  
One last way you can check the leather is to see if it can soak in any moisture or oil. Try and find an inconspicuous surface and drip a drop of water on the surface and see how it reacts. Or another simple method is to rub your finger on your nose to get some of the oils on your fingertip. Then rub the leather and see if the surface changes color. If the surface changes color then you can be generally sure that your leather is higher quality leather and most likely will not peel. 
But if the water or oil did not go into the letter surface the purse might have some special treatments done to the outer surface to make it waterproof or the purse is made from synthetic or low-quality faux leather. That means that your purse would likely crack and peel if you did not take care of it.
Why Did Your Leather Purse Peel?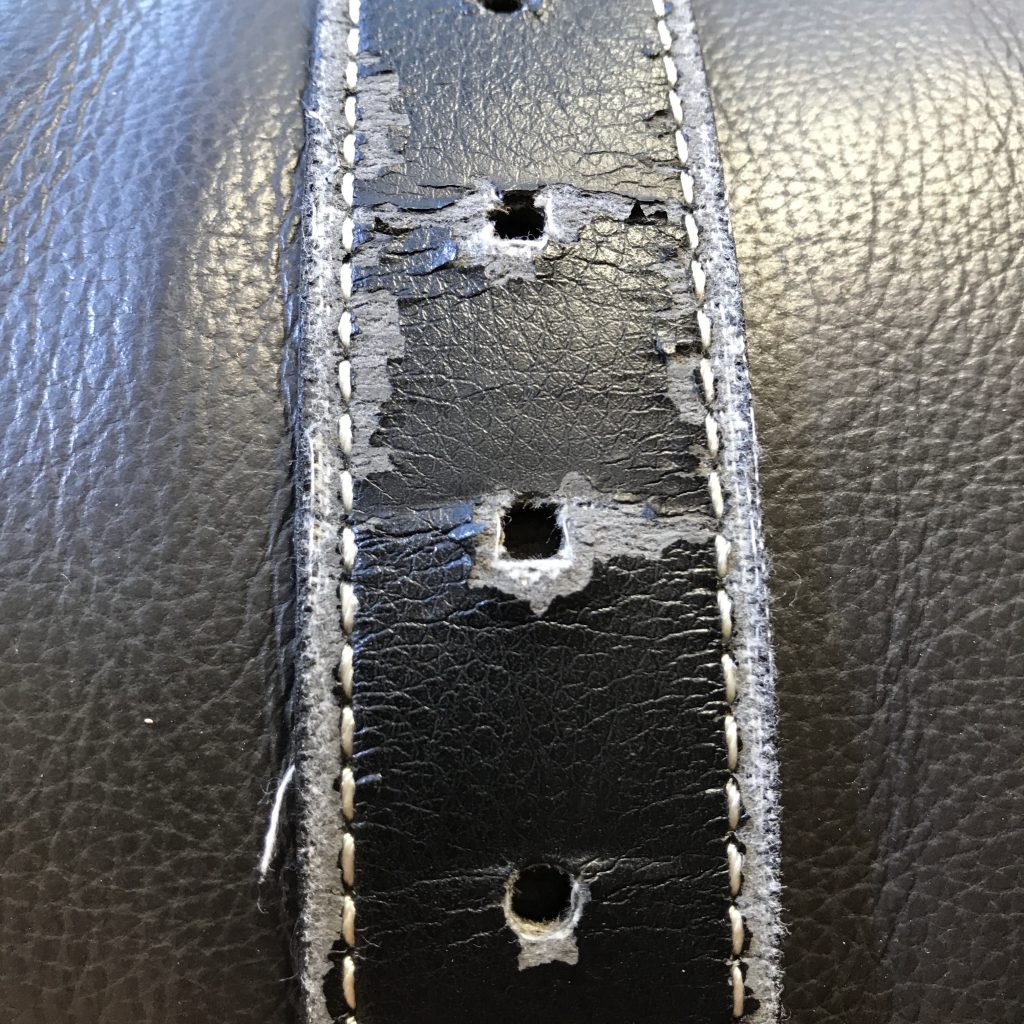 There are a few reasons your leather purse might be peeling or flaking. The first reason could be that your leather purse is made from synthetic leather which is essentially a plastic and leather mixture. Sometimes it's called synthetic layer or bonded leather and this means that over time the leather and plastic will crack very easily. Especially, if your purse is left in the sunlight or left in high temperatures or it gets wet frequently. And if your purse with this kind of leather is left in moist conditions it's even more likely it will peel or crack. 
The second reason might be that your leather was wet and was not thoroughly dried and your leathers got moldy and this also promotes peeling cracking and flaking. Over time these kinds of inferior quality letters will undoubtedly not last. So the only way to prevent these kinds of cheap leather purses from peeling and cracking is to make sure you clean condition and always make sure these kinds of purses are dry.
How to never buy a purse that will peel?
The easiest way to avoid peeling or flaking leather handbags is to buy a genuine veg-tanned leather purse like Marcello's exclusive line of bamboo woven purses. Our entire collection of backpacks wallets and purses are made with Italian veg-tanned buttery leathers and we weave bamboo into each piece for a unique pattern and structure.
You will never have a problem with flaking or peeling and certainly never have a floppy purse again! We wrote a helpful article about what to do with your floppy purse.  
Can I fix a peeling purse?
That is the sad part of a purse that is peeling or flaking. They are not usually repairable unless they are peeling in a small area and the rest of the purse is OK. If you spot a peeling leather problem early, you might be able to restore the purse and clean and condition it before it's too late. Some purse repair shops will try to paint or touch up the peeling areas with paint, but that is a temporary fix.