Are you thinking why does a handmade purse cost so much? I think it should cost less and is it even worth it?
You should buy handmade purses because they are created by artisans with quality leather and hardware. The designs are more refined and assembled with reliability in mind. Machine-made purses are designed and produced with cost and time in mind and use lesser quality materials and methods to assemble them.   
Handmade Leather is Made By Dedicated Families
As a general rule, handmade leather is made by dedicated people and families. It takes years of experience and dedication to create masterpieces of leather. So usually the ones that last are the ones who have been working with leather the longest. The reason I say this is that when you are creating leather purses and bags by hand, it takes time! For example, a Hermes purse takes 15 hours to make in France by artisans. And that is with a combination of high-tech machines, specialized tools, and over 4,300 artisans!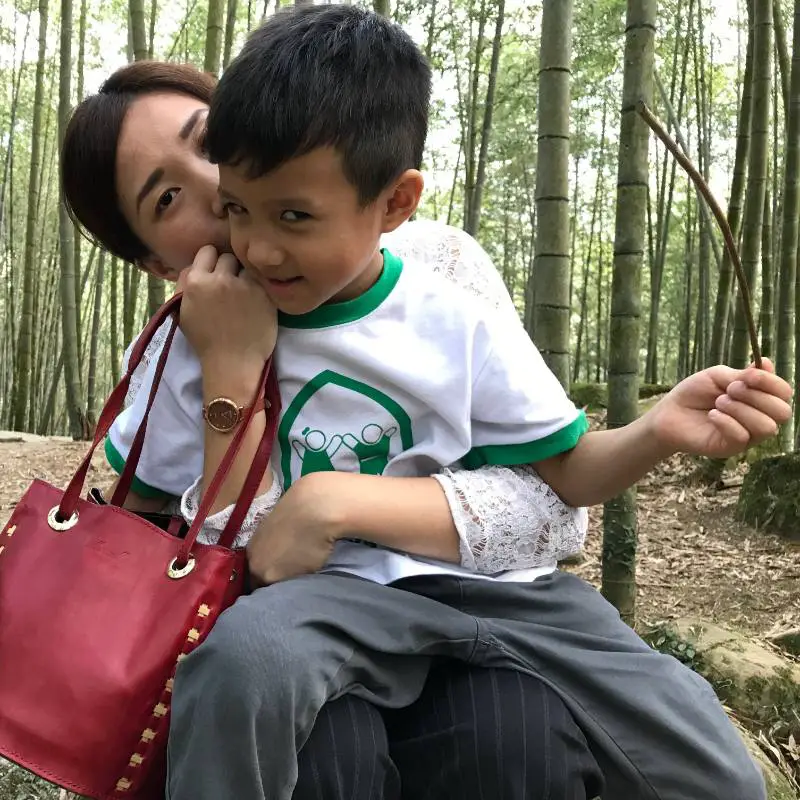 For smaller firms that make handbags, it's usually a family with a few employees making your bags and leather accessories. For example, here at Marcello, my wife and I work together to complete our range of bamboo-woven leather creations. Our son sometimes enjoys having some fun with us on his own "projects", he's seven! But we as a family work and breathe leather and sometimes until the late hours of the night to get samples and production done. It is a lifestyle and we have fun at it.  
Designed and By a Person with a Love for Leather
Do you know why we got into making leather? Because we wanted to get rich! Well, that was a joke, but we fell in love with making our leather creations. We design everything and test them every day to make sure they are useful, reliable, and easy to use and care for. I used to buy and use machine-made leather accessories. But now I have my own leather keychains, charms, and a belt bag I use every day. The same ones we sell online. My wife has purses and other items that she lets friends try out and use as well.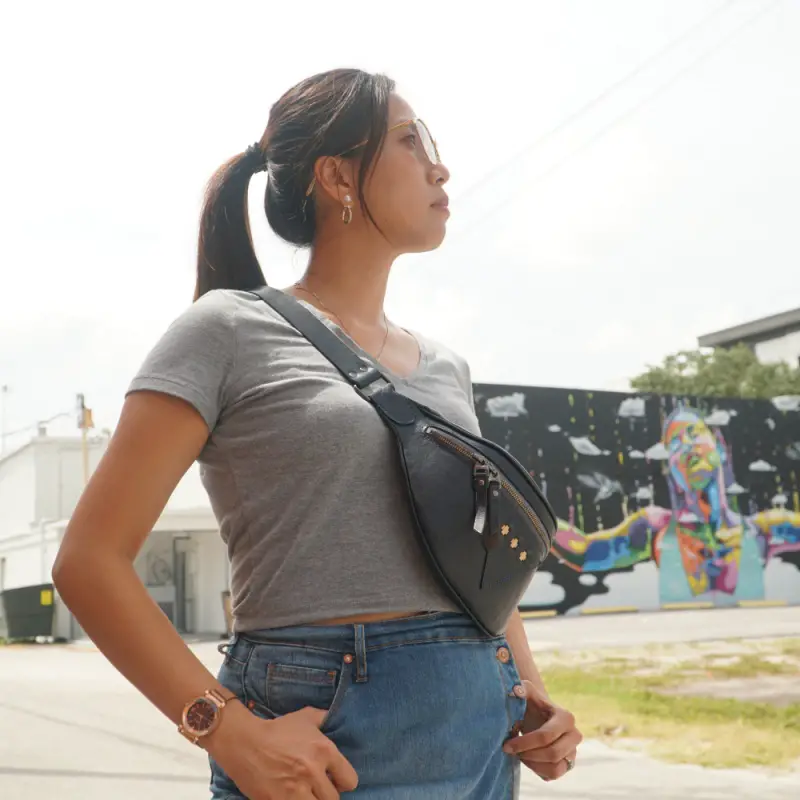 We love handmade leather; that's why we enjoy designing and making new stuff. We never started with machine-made leather, I only started with a keychain, and that was so hard for me to make. It was so small and I thought it would be easy to make, but the first couple I did were horrible. But we managed to get going and better at it over the years. The majority of factory-made leather purses and accessories are produced by huge teams of workers in far-off places.  
Quality Materials Selected for Handmade Purses
Handmade purses and bags are designed with unique colors and materials that accentuate each other and are selected to last. If you pay more than a cheap factory and machine-made bag, you would expect to get something that is going to be durable and beautiful. For example, we use buttery supple Italian veg-tanned leathers, brass hardware, and strong linen threads. We also use bamboo in our bags which can make them less floppy. Who wants a floppy messy looking purse? We have another interesting and helpful article about floppy purses and what you can do.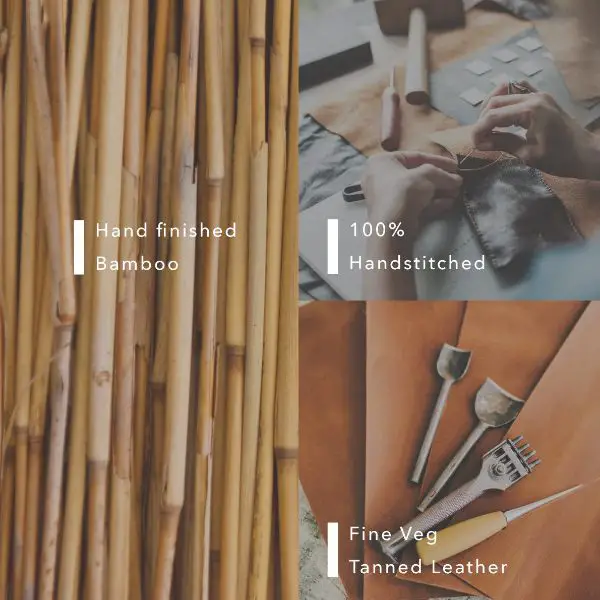 Why are handmade purses made with veg-tanned leather? Firstly, these leathers are the most natural types you can get. They are made in tanneries that use only natural ingredients like bark and other plant-based materials to dye the leather. These kinds of leather retain their natural properties and thereby are more supple and have some natural oils that remain in them. That's why you will notice that leather pieces made with veg tan will develop a vintage-looking patina over time. The chrome tan leathers you find in most machine-made purses don't develop a patina. And they are made with heavy metals like chrome and other harmful chemicals.  
Assembled by Professional Leather Artisans
Did you know that it takes over 528 holes for the stitching on our small accordion wallet? A leather artisan has to prepare every hole before hand stitching a small piece. That is to ensure that the placement of each hole for the stitch is in the right place. Then 2 needles create a sturdy saddle stitch that is hard to come apart. A machine-made bag doesn't require this. The sewing machine moves quickly and reduces the time to make the bag. But the downside of this is that the lock stitching is less durable and can break easily if one stitch is cut.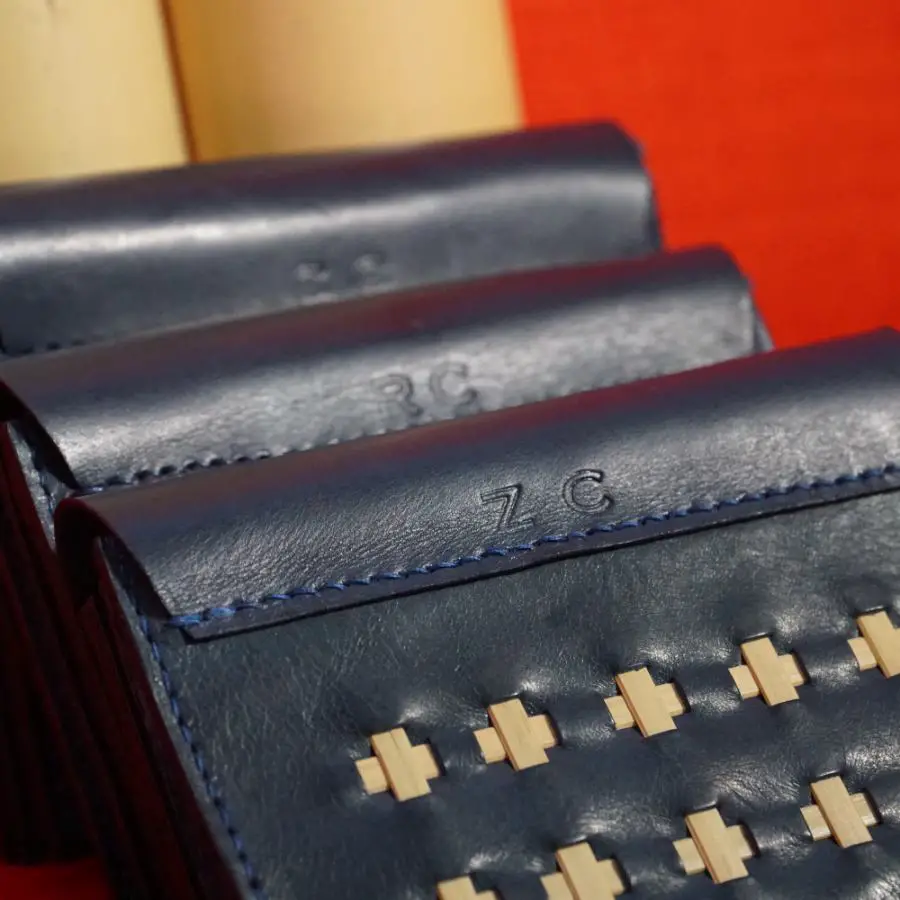 A handmade purse requires a leather artisan to assemble the piece part by part from start to finish. Most machine-made purses usually require many stations for mass production and each person handles a small part of the process. We believe that the small-batch process will provide our customers with the highest quality product for their money. And the artisans know how to handle every part of your purse. They care and love the work they do to produce a unique and lasting creation.        
Handmade Purses Use Durable Methods of Production
I know it sounds weird, and what is a durable method of production? Let me explain, with an example how the edges are made with handmade purses. Have you ever looked at the edge of a nice handmade leather purse? If they are done right, they will look natural and shiny, retaining the original color of the surface of the leather. It will be slightly darker but this is a very durable leather edge. The only way to achieve this kind of water-resistant and durable edge is using veg tan leather which requires the craftsman to prepare, sand, and burnish the edges.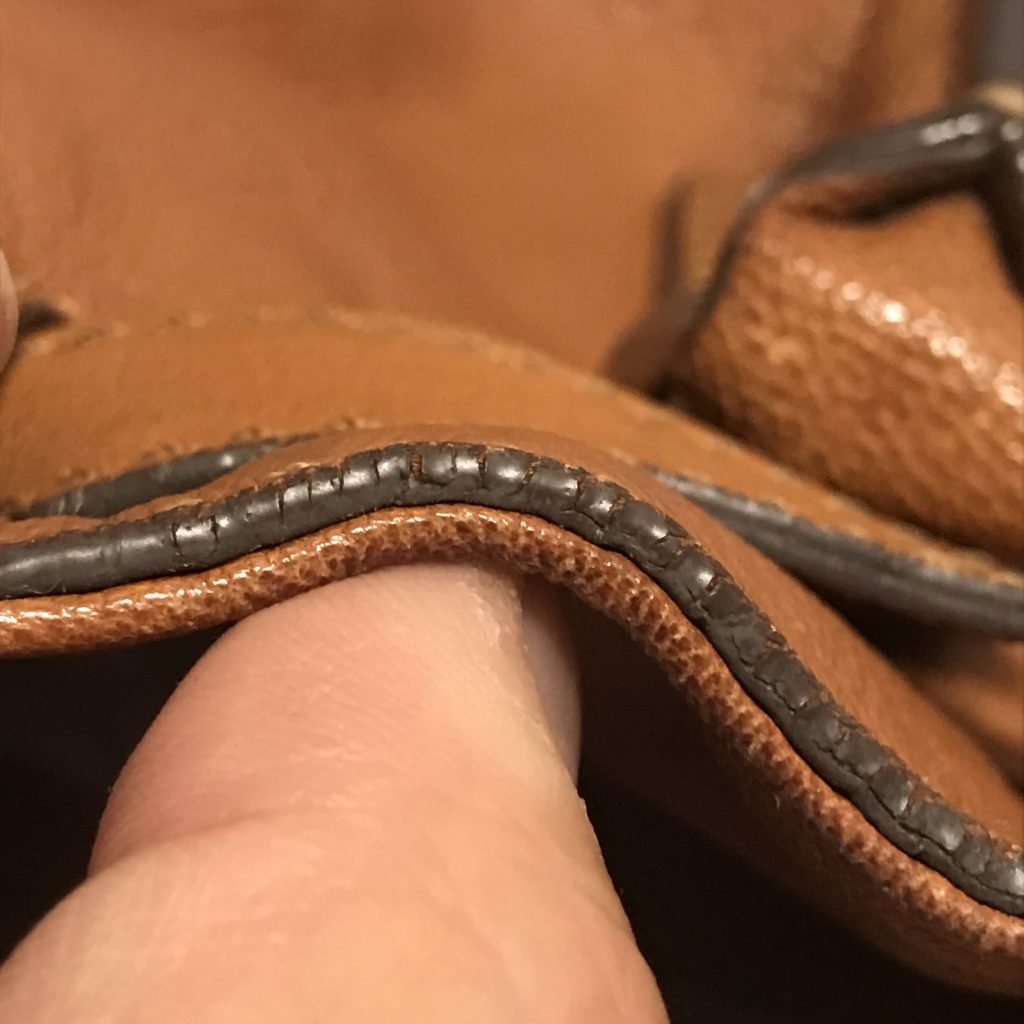 These kinds of leather edges are a small often overlooked detail. But they are important and can be repaired very easily if needed. We use a premium Japanese-made material that naturally seals our edges like the one linked above. Machine-made purses cannot use these types of edges. They have to use edge paint to seal. That is plastic or acrylic paint and will crack and peel over time. They are harder to repair and take much time to create. The lower quality leathers don't allow the more durable methods of production we can use in handmade bags.     
Handmade Purses are Warranted and Built to Last
Popular machine-made purses from Coach and Michael Kors have limited warranties of one to two years. A handmade leather purse will usually have an extensive warranty. All Marcello handmade purses have a lifetime warranty and we will fix them for their life. So why do the popular brands of machine-made purses come with such basic warranties? As we mentioned earlier, most of those purses will be made with either low-quality leather, or PU leather, which is just faux leather. Those kinds are derived from plastic. They will crack and peel over a very short time. 
They might be slightly more resistant to water damage, but the heat and use will wear them out quickly. Handmade purses come with much more resilient materials but you do need to care for them properly. Yes, you don't want to get them wet for sure. Or you should wipe them down quickly. But as with any fine possession, you should take care of them! Handmade purses and bags are more expensive, but they are usually warranted and repairable so they can last a lifetime!     
Handmade Purse Designs are Unique and Creative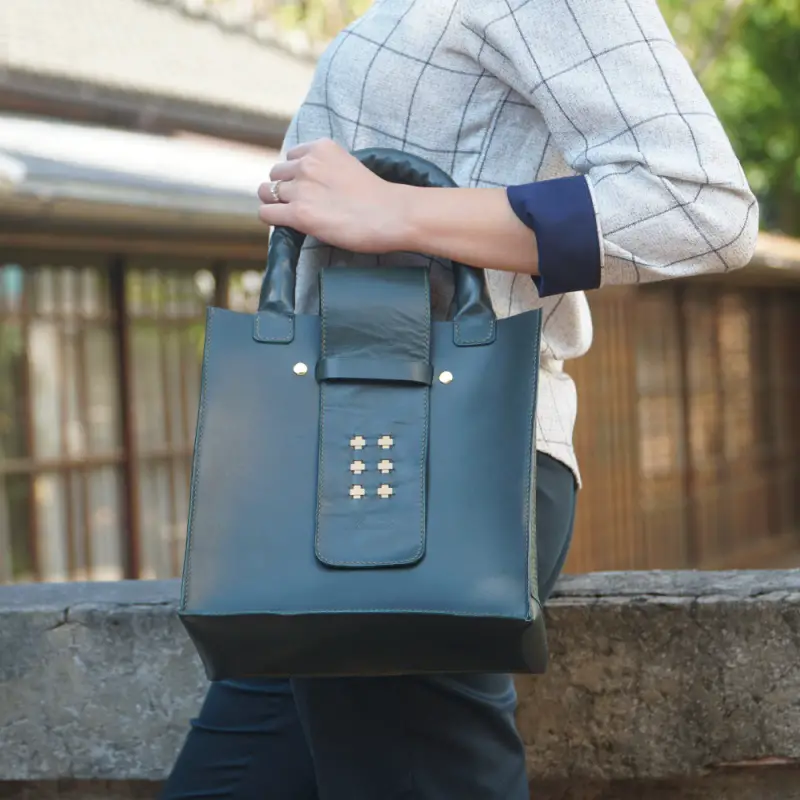 Many of our handmade purses and totes are created and designed especially for a client. They want something specific to their needs and taste. For example, we had a request to make a small tote that combined features and designs from her jute bag and our mini backpack. She looked for weeks for something she picked up in the UK, but she came across our designs and wanted something bespoke for her birthday.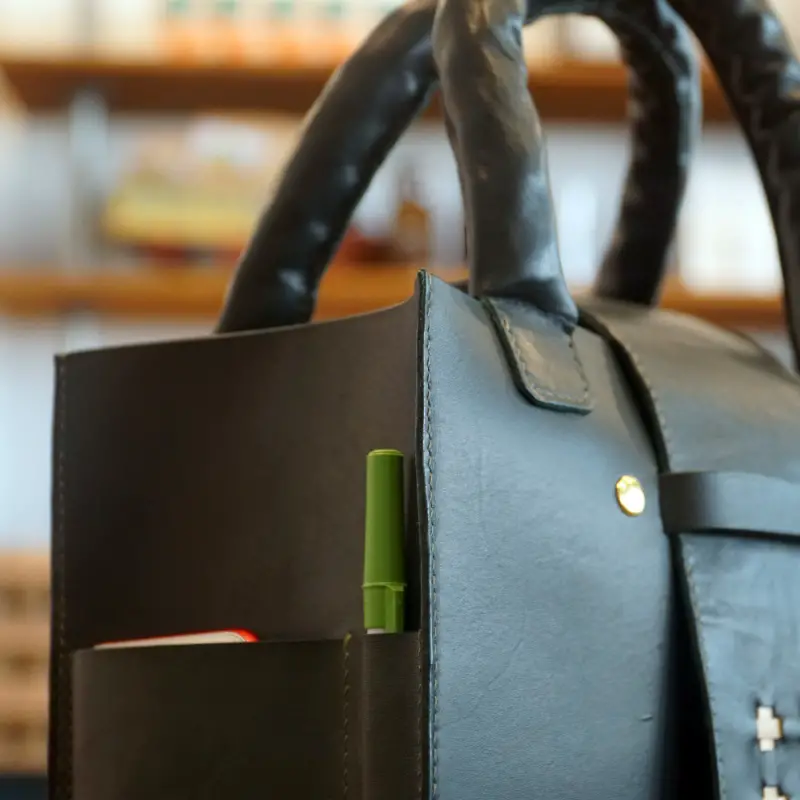 She also wanted some extra pockets on the side for her phone and some pens. Basically, she wanted a newly designed handmade bag. If you want a big brand machine-made purse, you won't be able to contact Michael Kors, LV, or Gucci to make you something unless you are a celebrity. But at Marcello, you can find unique designs and even get an even more exclusive bamboo bag or purse that you won't find anywhere in the world.